Jinx Build Rehber Guide
Mafia Jinx

---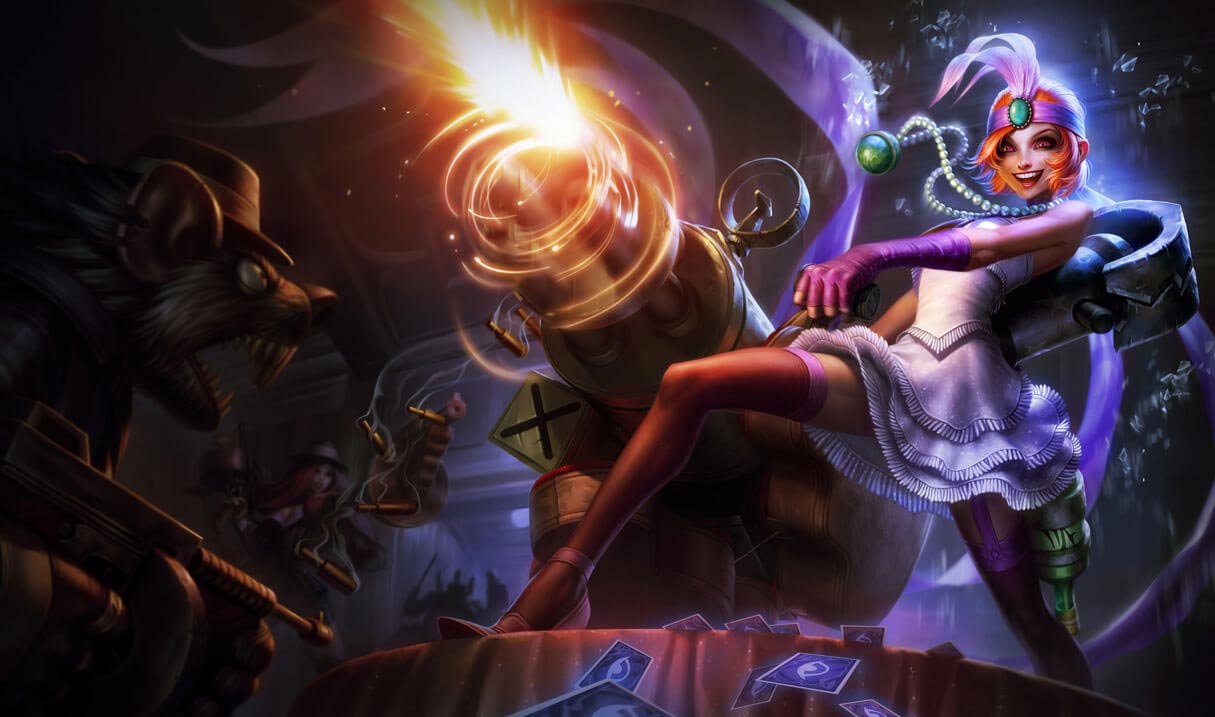 İngilizce Hikaye

---
Jinx lives to wreak havoc without a thought for consequence, leaving a trail of mayhem and panic in her wake. A manic and impulsive criminal, she despises nothing more than boredom, and gleefully unleashes her own volatile brand of pandemonium to the one place she finds dullest: Piltover. With an arsenal of deadly toys, she unleashes the brightest explosions and loudest blasts – all the better to shock and surprise the hapless authorities. Always just out of the law's reach, Jinx's favorite game is to toy with Piltover's finest – especially Vi.
Piltover had long been known as the City of Progress, a place where peace and order reigned. That serenity was challenged when a new kind of criminal arrived, the likes of whom had never been seen. This mysterious outlaw unleashed a series of warped and destructive capers that endangered the entire city, and left its people reeling from the worst crime spree in Piltover's history.
As the string of crimes without rhyme or reason hit the city, sightings of the lawbreaker emerged. Though the young woman's origins were a mystery, some saw traces of Piltover hextech in her firearms, while others described the street fashions of Zaun in her dress. Because her arrival always brought trouble with it, those who crossed her path soon gave her a name: Jinx.
Jinx's rampage escalated. Caitlyn – the sheriff of Piltover – responded by declaring a state of emergency and organizing a city-wide manhunt. In typical Jinx fashion, the criminal marked the Piltover treasury, the city's most secure building, with a direct challenge to its most abrasive officer. With a caricature of Vi's face splashed across the treasury's facade, and with a time and date of her supposed raid, Jinx was openly daring the enforcer to stop her from robbing it.
Determined to put the troublemaker behind bars, Vi watched and waited outside the treasury until Jinx's time had finally come. True to her scrawled promise, the smiling menace showed her face. Knowing this was her chance to capture the outlaw, Vi gave chase into the building's interior. She smashed through wall after wall to chase down Jinx, who giggled as she lit up the evacuated treasury with fiery explosions. Vi finally cornered the criminal inside the vault, but Jinx wasn't done just yet. With a maniacal laugh, she fired a barrage of rockets, bringing the entire building down upon them both.
When Vi finally crawled out of the ruins, the battered enforcer found no trace of Jinx. Adding insult to injury, not a single ounce of gold had been taken from the ruined vault. Instead, the criminal left a parting message to her favorite officer of the law – a challenge only now visible through the gaping opening in Piltover's skyline. The lights of the city spelled out a simple taunt: you'll never catch me. As Vi read the message, she heard the distant laughter of her new nemesis, and the city plunged into utter darkness for the very first time.
Vi'ye olan düşmanlığıyla bilinen son zamanların en çılgın kahramanı olan Jinx hakkında ki detaylar açıklandı. Bakalım Jinx kendini beğenmişliği kadar biz oyuncuların beğenisinide kazanacak mı?
Riot'un saldırı gücü taşıyıcısı (ADC) yani alt koridor kahramanı olarak belirlediği Jinx Lucian'dan sonra alt koridor oyuncularını sevindirecek gibi duruyor. Efsanevi çılgın Jinx'in becerelerine şöyle bir bakalım.
Pasif: Ay Çok heyecanlı
Jinx'in yakın zamanda saldırdığı bir şampiyon veya kule katledilir veya yıkılırsa, Jinx büyük miktarda hız takviyesi kazanır. Bu takviye zamanla erir.
Q: Değiştir
Silahları değiştirir
-Kılçık, roketatar: Jinx'in normal saldırıları mana harcar ama menzil kazanarak hedefe ve yakındaki rakiplere fazla hasar verir.
-Dan Dan, makineli: Jinx'in normal saldırıları kısa süreliğine saldırıları hızı verir; bu etki üç kereye kadar birikir. Jinx saldırmayı kestiğinde birikmiş yükler birer birer yok olur.
W: Cızzıt
Jinx'in yaptığı elektrik atışı isabet ettiği ilk rakibin hasar görmesine ve yavaşlamasına yol açar.
E: Patlangaç
Jinx'in bir hat üzerinde attığı bombalı kapanlar birkaç saniye sonra patlayarak yakındaki rakipleri ateşe verir. Rakip şampiyonlar, üzerinden geçtiği bombanın erken patlamasına yol açar ve kısa süreliğine yere mıhlanır
R: Manyak Güçlü Ölüm Roketi
Jinx'in ateşlediği roket, yol aldıkça hasar kazanır. Roket ilk rakip şampiyona isabet ettiğinde infilak ederek hedefe ve yakındaki rakiplere, eksik can değerlerine göre hasar verir.
Jinx'in oynanış mekaniklerine baktığımızda kaçış becerilerinin olmaması biraz rahatsızlık versede, uzun menzili ve yavaşlatma bererileri sayesinde rakip ile aradaki mesafe korunduğunda herhangi bir sıkıntı olmayacaktır. R becerisi sadece alt koridor değil iyi kullanıldığında bütün oyuna destek verebilecek bir beceri. Takım savaşlarında ne kadar etkili olacağını şuan tam bilemesekte Jinx'in alt koridorda rakiplerine soğuk terler döktüreceğini söyleyebiliriz.
Takım savaşlarında takım arkadaşlarına muhtaç olan Jinx iyi korunursa rakiplerin canlarını hızlıca silebilir. Ayrıca oyun sonu kahramanı olduğu için koridorda alan etkili becerileri sayesinde kurduğu üstünlük ile iyi kasılmayı başarırsa oyun sonunda takım arkadaşlarının yardımını aramaksızın bir yıkım makinesine dönüşebilir.
Jinx'in hikayesi ve hakkında daha fazlası için burayı tıklayarak resmi web sitesini ziyaret edebilirsiniz.
http://www.lolfrm.com